Ford Bronco Interior Upgrade - Center Console Molle Panels and Bridge - DV8
Product Information
$269.99
Lowest Price Guaranteed
More info!
Drive now, Pay later with Affirm!
Learn More
or with PayPal
Both options will be available upon checkout.
If you're looking for a way to take all of your essential gear with you on the go, look no further than the Bronco Center Console Molle Panels & Bridge.
These panels are perfect for stowing molle pouches, a multi-tool, sheath, holster, EDC gear, and many other molle compatible accessories.
The bridge is fitted with 5 PEM nuts (M5 x 0.8) compatible with RAM diamond based digital device mounts, as well as other common brands. This allows you to mount your cell, GPS, radio, or other digital devices. This bridge is also easily removable while still keeping the side panels in place.
The design retains full use of the cupholders and passenger side grab handle. So whether you're hitting the trail or just running errands around town, these Center Console Molle Panels & Digital Device Bridge will keep everything you need within easy reach.
Features:
Designed for the Ford Bronco
Driver & Passenger Side Center Console Molle Panels
Side Panels Compatible with Molle Accessories as Well as Clip Mounts
Digital Device Bridge Fits RAM Diamond Base Mounts
Keeps Your Smartphone, GPS, Tablet, Radio, at the Ready
Retains Use of Cup Holders & Passenger Side Grab Handle
Quick and Easy Installation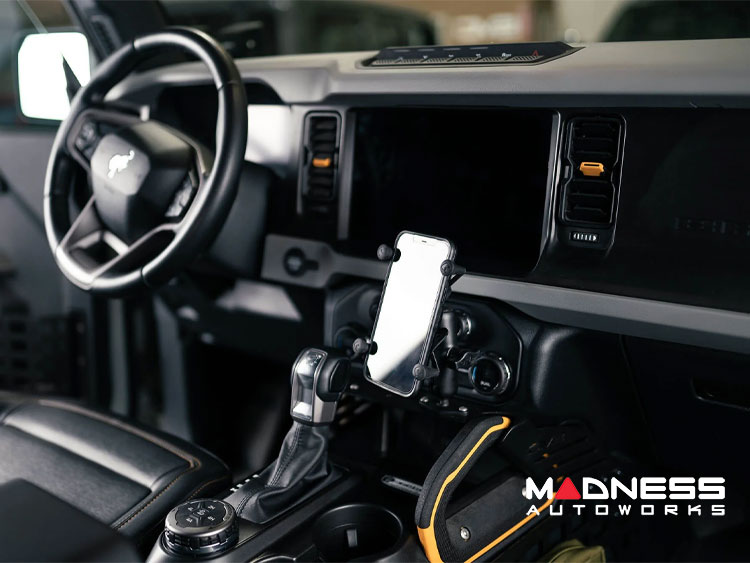 CONSOLE BRIDGE CAN MOUNT MULTIPLE DEVICES
The bridge is the perfect place to mount your cellphone, GPS, radio, or other digital devices for your journeys on and off-road.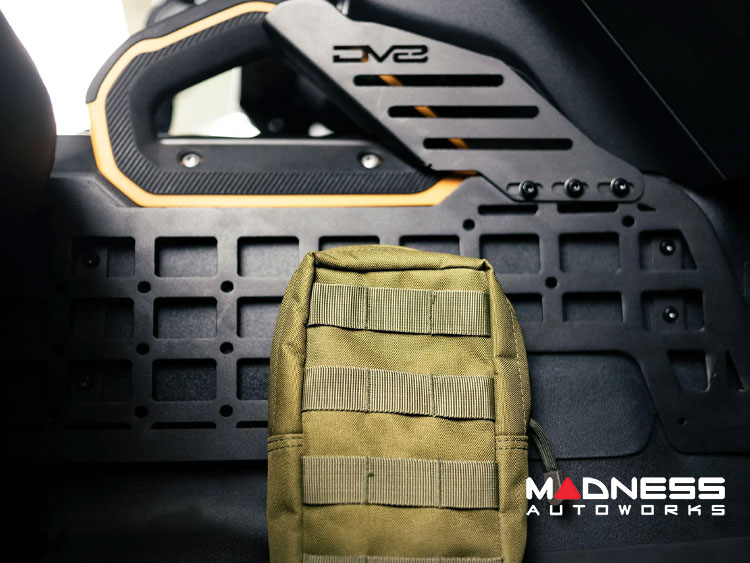 DRIVER & PASSENGER SIDE MOLLE PANELS
This kit includes both a driver & passenger side molle panel. These are great for mounting molle pouches, a multi-tool, knife, holster, or other molle accessories.