Ford Bronco Soft Top Assist - EZ-Lift - IAG - 4 Door
Product Information
Sold out - New inventory coming May 2023
Contact Us
Lowest Price Guaranteed
More info!
Drive now, Pay later with Affirm!
Learn More
or with PayPal
Both options will be available upon checkout.
DO YOU HAVE TROUBLE LIFTING YOUR BRONCO'S SOFT TOP?
You're not alone! While the Bronco's soft top system provides a lot of versatility, we have found that the operation can be cumbersome. The OEM soft top frame is heavy, and it's also not very stable, especially when operated from the side of the vehicle.
Simple tasks like putting the top up and down or accessing the rear cargo area are difficult, especially one-handed. Who wants to climb into the back of their Bronco just to put the top up and down?
THE SOLUTION
The EZ-Lift Soft Top Assist System was developed to solve these problems. By installing one of these systems, your soft top will be transformed into an easy to use, convenient feature. The EZ-Lift System adds a pair of gas struts to assist you in lifting your top.
The best part is that it serves two functions. It allows for easy access to the rear cargo area, without having to support the heavy top by hand and use the unwieldy prop rod. Second, it provides a much needed assist in closing the soft top while increasing the rigidity of the frame which prevents common scratches to your Bronco's roll bar. The EZ-Lift System is compatible with the Ford Cargo Area Security Enclosure. Patent Pending.
EASY, 15 MINUTE INSTALLATION
The EZ-Lift Soft Top Assist System is designed to be easy to install. The average installation time is less than 15 minutes and it can be done with basic hand tools in your own garage. The kit features full written and video instructions to assist you with any questions you may have. There's no cutting, drilling, or permanent modifications.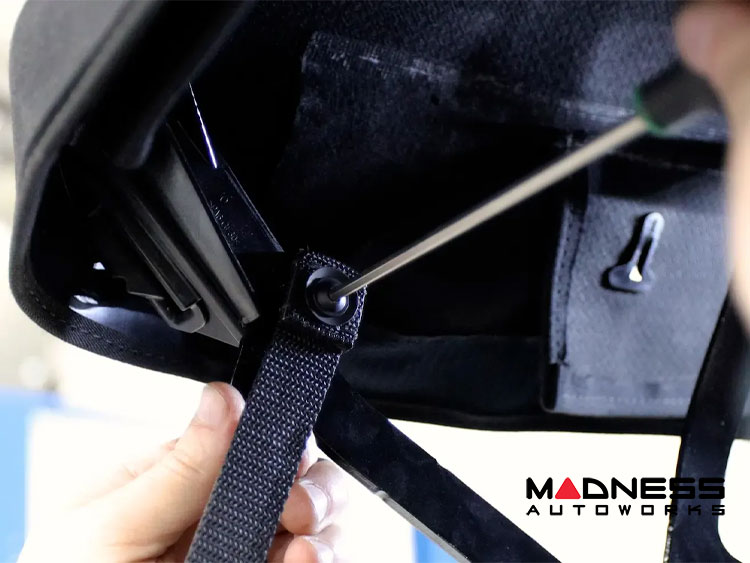 LIFETIME WARRANTY
We're proud to offer a Lifetime Warranty on the IAG EZ-Lift Soft Top Assist System. In the unlikely event of a failure, we will provide free replacement parts for life to the original purchaser.